Bible Study Should Transform You.
Passionate. Personal. Powerful.
WALKING WITH JESUS is a Bible Study for life.
Six Volumes.
Four Gospels.
Three Years.
Jesus instructs us to "…teach them to obey ALL I have commanded you…".
 Who would be a better teacher for helping you grow as a Christian than Jesus Christ? 
Order the WALKING WITH JESUS Volume 1
and embark on a Word-inspired transformation
for yourself and your small group.
Embark on a transformative journey through the extraordinary Gospel about our Savior, the Son of God!
Who Was Walking With Jesus Written For?
Your life demands guidance and wisdom for everything you encounter, health, economic stress, identity concerns – Who is a better role model than Jesus Christ? WALKING WITH JESUS is perfect for personal time and reflection over scripture. Your heart and mind will discover Godly truths to help you weather life's storms.
Getting an understanding of scripture can be a challenge across education levels and age ranges. Walking with Jesus is easy to understand and easy to follow. Build a reference library on the Gospels for your small group Bible study with this three-year journey and reduce preparation time between studies. Commit to Walking with Jesus together through the Gospels and strengthen the friendships in your small group.
Managing priorities and many leadership roles in your life can get in the way of recognizing your own needs and talents for helping others. Many women were by the side of Jesus through his journey. Today they are beloved and praised names among the disciples. Prioritize a walk with Jesus to ultimately mirror a most perfect role model. Reflection notes sections give you the perfect opportunity to untangle life at the feet of your Creator. Let His love guide you in how to be a Godly woman, wife and mother.
Standing strong in the face of hardship and temptation are challenging without a good role model to follow and confide in. One easy Walking with Jesus three-year journey gives you a lifetime Best Friend to learn about what a Godly man says and does. Don't take another step alone as a father, husband, or single man looking for love without first prioritizing and growing your faith.
As Spiritually effective and biblically minded Ministers, Bishops, Pastors, Priests, Nuns, and Missionaries, we all walk with Jesus. Bible teachers in all settings will find relevant lessons that impact your church management with this Bible-based, non-denominational study. Integrate Thought & Discussion Questions into your Bible classes, sermons, one-on-one conversations, and counseling for unity in your journey, and the deepening of your connection in your ministry's fellowship. Too many churches have lost sight of what Jesus did and taught. Our churches need leaders who will follow Jesus and teach their congregations to follow Him also.
Now is the perfect time to decide what you are going to do with Jesus. What better subject to study than the life and teachings of Jesus Christ? Your higher education can begin just by committing to study. College-level material with easy-to-understand commentary and questions means lay students with all levels of experience will get to know Jesus better. Whether you're working out your faith or just deepening your knowledge for further study, you will take away a personal relationship with Our Lord and get to know Jesus on their own, without denominational authority influence.
"Earn college credits!
Vision College will articulate the Walking With Jesus Bible Study Series to the diploma of Biblical Theology and award 90 credits upon completing the entire Series."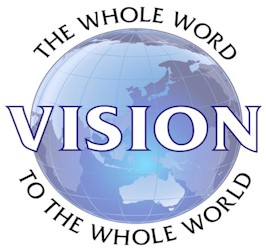 You've just accepted Jesus, but don't really know what He did and taught. How do you find a community of faith or a trustworthy learning source once you accept Jesus? Learning to face temptation and building and intellectual understanding of scripture involves a journey. If you are a part of Walking With Jesus, you can be assured of your salvation and arm yourself with knowledge of God's history with His people. Word studies and Thought and Discussion Questions help you get to know Jesus in a way that is personal to you for emboldening your faith and tuning your heart to other Jesus followers.
Every day you need better communication, leadership, and values in your relationship and family. Intimacy is created when you make time together for working through those tough issues inside your home. Work/life balance, addiction, and abuse sneak into families too often when no one is paying attention. Scripture and Discussion Guide with questions are perfect for family learning, sharing, and problem-solving in your home.
"I'm going to Heaven soon and I want to 'cram for finals'". You are a part of fierce generations who have contributed to building the present. But you are not alone if you have suffered loss of health, loves, and confidence to navigate in a rapidly-changing world along the way. Keep your mind sharp and your heart in tune. Reading daily and studying the life of Jesus is the best way to withstand the many complexities of life changes, physical limits, and illnesses of long living.
Single, married, starting a family, emptying the nest…life is taking you on a journey. No matter where you are, Jesus has a message and guidance for you. There's no limit to how many times you need the words of Jesus. If you've just met Him or you know Him as your best friend, Walking with Jesus put you on a journey of lifetime transformation.
"If you want to saturate yourself in the life and teachings of Jesus Christ, now you have a handy tool that will do just that. "Walking With Jesus" highlights every event in Christ's life using both thought-provoking commentary and a harmony of the gospel accounts.
-Dr. Woodrow Kroll, President, Back to the Bible International
Dive deeper into the Word with relevant information and prompts for reflection. Personally apply scripture to help you follow Jesus as your role model!
Learn even more and grow your faith in your small group and personal devotional time. WALKING WITH JESUS helps you discover the language, history, and culture of His people!
Deepen your understanding of scripture when you read the Harmony of the Gospel. Discuss the recorded events with in-text reference data and images!
Enhance your learning experience with a glimpse at the upper room where the Last Supper was held. See where Jesus prayed in the garden before he went to the cross!
Three years with Jesus ignited a ministry that changed the whole world.
What will three years of
"WALKING WITH JESUS"

do for your life?
For $1.15 a week, build a complete reference library of everything Jesus taught and did!
Our goal is to start Walking WIth Jesus Bible study groups in churches all across the United States. Your gift will help us tell others about this life-changing Bible study series. God Bless.
Your shoppings can help us
With your purchase
(*)
,
Amazon will contribute a portion
to promote the
Walking With Jesus Bible Study Series.
(*) only of eligible purchases