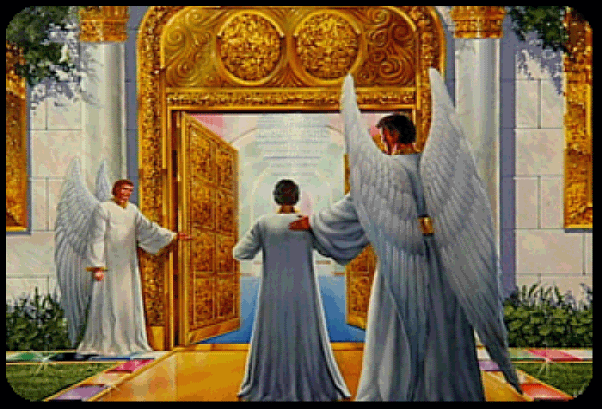 Remember the excitement when you were anticipating something good. A vacation trip with mom and dad, Christmas, getting married, first baby? Let's talk about a spiritual trip that we can get excited about.
People have varying feelings about death. Some dread it. Almost everyone seeks ways to avoid it. Some look forward to it. Unfortunately, some bring it on before their time. Some see death as "the END!" Christians see it as a stairway to a life that is far better than life on this earth. Christians look forward to living eternally. That life will last eternally. What does "eternally" mean?
John 3:16; 6:40 – God promises eternal life. Jesus will raise us up on the last day!
I John 1:25 – God has promised us eternal life.
1. WHAT IS ETERNAL LIFE?
Eternal life is a GIFT from God to dwell with Him in His Heavenly presence forever.
Revelation 7:14-17 – In God's presence with no hunger or thirst or heat or sorrow.
Revelation 21:3-4, 23-27, 22:1-5 – Life without sadness, death or pain. There will be no more darkness, disease, disabilities or physical, mental or emotional handicaps. There will be no hunger, thirst, too hot or too cold. No loneliness, longing for love or loved ones. We will see God, Jesus and the Holy Spirit up close and personal.
John 6:26-27 – We should seek that "food" that yields eternal life.
2. WHEN DID WE GET ETERNAL LIFE?
Hebrews 9:15 – JESUS gave a new covenant that gives eternal life.
Titus 1:2 – A promise of God.
I Timothy 6:12 – Eternal life is received when we become CHRISTIANS
Eternal life is a gift from God to all who will seek and follow His Son. When a child is adopted, they become a part of the adopting family. That is how it is with God. He will adopt us if…
3. HOW DO I KNOW I HAVE ETERNAL LIFE?
Galatians 6:7-9 – Sow to the SPIRIT to reap eternal life.
II Corinthians 5:1-5 – This body is for destruction, but we have an eternal body that lives forever.
Romans 6:22-23 – The benefit of holy living is eternal life. That is why we endure the sufferings, persecutions and limitations of this life. We believe that God has something far better if we will be faithful in following Jesus.
II Corinthians 4:16-19 – Don't lose heart. Eternal life is YOURS!
4. HOW DID WE GAIN ETERNAL LIFE?
John 6:40, 54, 68; 10:27-28 – Jesus is the WAY to eternal life.
Titus 3:4-7 – Inherited through Jesus Christ.
I John 5:11-12 – Eternal life is gained through Jesus Christ.
(John 12:25 – Eternal life is NOT found in the things of this world.)
WARNING – Romans 2:7-9 – Eternal life is not earned by doing evil things, but by refraining from sin.
I Peter 5:10 – God called you through Jesus for eternal life by making Jesus suffer for your sins.
II Peter 10:10-11 – Be faithful to Jesus to make eternal life secure (read verses 5-9 to see what to do).
5. Be Encouraged – Eternal Life is YOURS!
II Thessalonians 2:16-17 – be encouraged by these words.
Acts 13:46-48 – Eternal life should make us glad.